Mobile gaming leads growth globally
MAG operates in a competitive market, with large growth potential. Gaming for smartphones and tablets continues to be the largest segment of the gaming industry in 2019 - with total revenues of $68.5 billion, mobile gaming accounts for 45% of the global gaming market, according to Newzoo's Game Index Report 2019.
The report also states that mobile gaming is the most expansive area in the global games market with likely continued increases in growth opportunities during the coming years. Newzoo expects steady growth from smartphones and tablet gaming until 2022, compared to PC and console gaming where growth has more or less stagnated.
GLOBAL GAMES REVENUES
Increased smartphone usage and emerging markets
Game revenue for mobiles and tablets will amount to more than $95 billion in 2022 and account for about 49% of the entire gaming market. Although console and PC gaming is a multi-billion dollar industry, they share a similar audience. There's greater growth potential in mobile gaming, a trend clearly visible in Newzoo's report.
This growth is partly due to new emerging markets like Latin America for example, but also due to increased use of smartphones worldwide, improvements in phone hardware and increased play of so called cross-platform games.
In 2019 North America is once again the second largest market after the Asia-Pacific with sales of $39.6 billion, accounting for 26% of the global gaming market.
The US and the EU account for the majority of MAG's revenues, and the company continues to be positive towards increasing its shares in these markets. MAG uses the US as a benchmark for launching new games and does not intend to shift its focus to other markets in the near future.
Leading market revenues 2018/2019 for MAG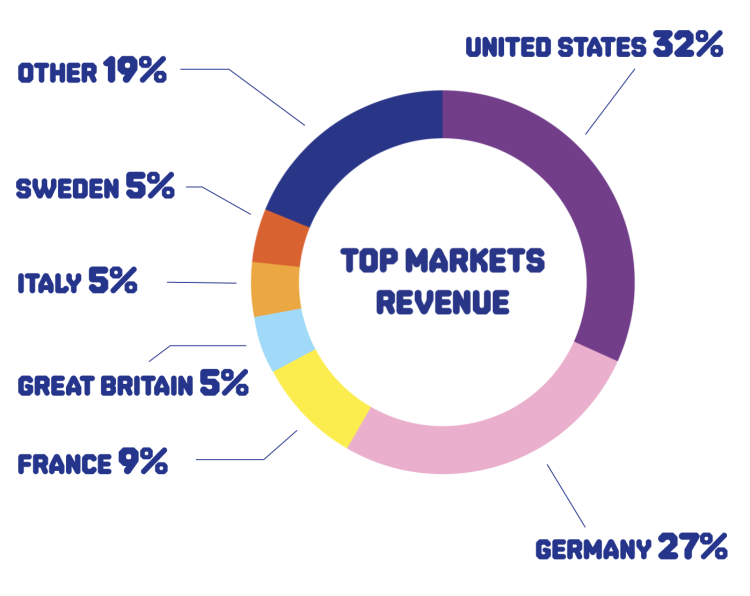 The power of free-to-play
Free-to-play games have become very successful in the mobile gaming market. Free-to-play means that the game is free to download and that earnings are instead made from in-app purchases and advertising.
As the player's stake in playing the game is low, the game is made easily accessible to a wider audience. Users are given the opportunity to play for free but in order to progress through the game they need to watch ads or buy items in the game. By gradually offering new content to players, you create an incentive to return to the game which generates long-term revenue.
MAG's business model is based on this free-to-play model, where monetization of the game by giving value to the player through in-app purchases or watching ads is the key to success.
Subscriptions are also emerging as a source of revenue in free-to-play games. MAG follows this market trend closely and has also implemented subscriptions in Word Domination.
New players on the mobile market
Over the past year, several console and PC companies have established themselves in the mobile market with cross-platform releases of both classic and new console and PC games. This is a trend with a number of companies that have not previously had a presence on the mobile market, but who are now are capitalizing on the potential of these synergies. These new players are currently not in direct competition with MAG, as they neither focus on ​​social casual multiplayer nor word games.
The global gaming market may also be affected by new technologies and platforms, with streaming solutions such as Google Stadia or Hatch. However, it remains to be seen whether both the technology and the business model work for platform owners, content developers and customers in the long term.
Source: The 2019 Global Games Market Report by Newzoo.com